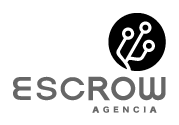 As any other software developer the protection of our intellectual property is a major concern, but we also understand that our clients who make software integration want to have some assurance about the financial investment involved in purchasing software, and like any other investment, that must be protected.
In Reporting Estándar we care so much about protecting our assets, as well as guarantees and rights of our customers, for this reason, and with a commitment to providing legal service coverage to all those who purchase our integration tools, Reporting Estándar works with Agencia Escrow by the deposit of its product XBRL API source code .
Any customer who wishes may subscribe to this service, simply contact Agencia Escrow to request more information.